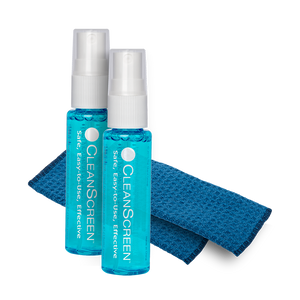 INCLUDES: 2- 30ml Bottle includes Microfiber Cloth
With a 1-oz. bottle of CleanScreen and a microfiber application cloth, this kit is small enough to fit easily inside your briefcase or purse, but distinctively shaped so it won't get lost. Reach for it when gunk has smeared your glasses, camera lenses or any of your other basics. The unique atomizing mist polishes instantly and won't drip on clothes or car seats. You don't leave your house without your cell phone or glasses, so you definitely need to toss in the CleanScreen!
Use CleanScreen™ with confidence on all the following products:
Flat-panel and rear-projection HDTVs
E-book readers (iPad, Kindle, Nook, etc.)
GPS navigation systems
Smart phones
Portable games
Cameras
Eyeglasses/sunglasses
Laptops and desktops
and the list keeps growing daily...
CleanScreen™ - The original screen cleaner.
CleanScreen™ is the original - we were the first company to clearly see the need for a cleaning formula that would thoroughly remove all the dirt without degrading the screen's surface. This is important, because many glass and window cleaners on the market today contain chemicals that can permanently damage polymer monitor screens. The CleanScreen formula of specially developed solvents is all-natural and non-abrasive, so you end up with just a clean, polished screen.
MSRP:
$16.00